By Gaby Dufresne-Cyr, CBT-FLE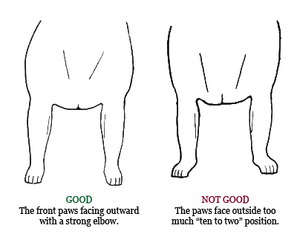 Morphological characteristic is a newly debated topic to which I'd like to shed some light. Recently, or should I say finally, the city of Montreal established what the morphological characteristics are for pitbull-type dogs. The topic is once again a compilation of nonsense criteria, and I'd like to discuss the reasons why. 
Dog Physical Characteristics 
Here is a list of the morphological characteristics of pitbull-type dogs in Montreal. I know it's a little long and confusing, but this is what mayor Denis Coderre's team came up with five months AFTER the by-law was passed. You'll find my explanation or clarification, in red, next to the criterion. Professionally speaking, the following twenty points seem improvised and are highly discussable.
Muscular, short-haired, powerful and athletic-looking dog. The dog has a square shape when viewed laterally.

By definition, this characteristic includes ALL dogs from the molosser group, and could possibly include deep-chested Labradors, Boxers, Doberman Pinchers, etc.

 
The male weighs 12 to 35 kg

(27-77lbs)

and is 36 to 53 cm

(14"-21")

high at the withers. The female weighs 10 to 30

(22-66lbs)

kg and is 30 to 50 cm

(12"-20")

high at the withers.

 The height to weight ratio is usually proportional. Weight as a breed characteristic can open the door to malnutrition and subsequently abuse.

 
Its coat is close-hair, short and smooth. It's unclear if only single coats are allowed. The criterion doesn't say if dogs are considered pitbull-type animals if they have double, 2-5 secondary hair, coats. 
Its head is wedge-shaped when viewed laterally or above, but round when viewed from the front.

This is confusing. Most dogs have a wedge-shaped head when seen from the side. As for a round-shaped head when seen from the front only a few breeds like Bulldogs (English and French), Pugs, Dogue de Bordeaux, and possibly Boston Terriers come to mind. 

The head is about 2/3 the width of the shoulders and 25% wider at the cheeks than at the base of the skull.

I wonder if the measurements are actually calculated or guesstimated. 

The distance from the back of the skull to the eyes is equivalent to the distance from the eyes to the tip of the muzzle.

Again, this is so general that most dog breeds conform to the criterion. 

Well-defined stop.

No mention of the stop's angle is discussed or proposed: 45o, 60o, or 90o are all well defined.

The muzzle is straight and square.

A bit better, but still too general to decide the faith of dogs. 

The lips are tight and dental occlusion is normal.

I'm uncertain how this condition can be considered since it's impossible to prove if the dental occlusion is a biological breed characteristic or genetic fault.

The eyes are small and triangular when viewed laterally. They are round or slightly elliptical when viewed from the front.

I'm trying not to let my opinion interfere, but common, this describes pretty much the entire canid genus.

The ears are high set and small.

Again, this criterion is too general to decide the faith of a dog. I mean, official CKC and AKC breeds banned by the city of Montreal have very specific ears and ear placement shapes and sizes. So why not be a little more clear?!

The neck is muscular.

All canids have a muscular neck. FYI: the neck is the second most powerful muscle after the jaw. 

The shoulders are a little wider than the rib cage at the eighth rib level.

This is getting a little ridiculous. So many dogs fall into this category. If you cross a Bulldog with Labrador this characteristic is highly likely to occur. 

The elbows are not prominent and the front legs are parallel. Obviously, it's a dog. But, on a positive note, thank God most pitbull-type dogs out there have misaligned legs which disqualify them as pitbull-type.
The front legs are heavy and solid-looking. Hun?! My mother use to say When you don't know what to say, say nothing.
The front is massive, with a comparatively delicate back.

This describes most 

dog breeds, maybe except sight-hounds. The problem with this criterion is that if you mix any breed with a massive front you'll get this definition, without having any terrier in the mix. Mix a Bulldog with a Dalmatian and you'll get a pitbull-type dog according to Denis Coderre and Anie Samson.
The back slopes slightly from the withers to the rump.

Which would mean their back legs are shorter than the front. doesn't this contradict points 16, 18, and 19?!

The hips are broad for firmly attached muscles and the hind legs are muscular. 

I can't take these descriptions, they're so misleading and confusing. Obviously, muscles are firmly attached to broad hips, it's a dog people. 

The hocks are low and the hind legs appear slim under the knees. In other words, the back area is a great big muscle, firmly attached (as we just learned) to short, thin legs. I'm starting to wonder how this dog can actually stand. 
The tail is of medium length, becoming slimmer from the base to the tip, and generally kept down. 

Pardon my expression, but WTF?! Sorry, I just lost it for a second. This is a definition for Every. Single. Dog. Tail. 
Do you see a problem with Montreal's pitbull-type dog criteria? If not, let me point it out. The problem is the following; there's no indication as to which criteria and how many of them turn dogs from non-pitbull to pitbull-type dogs. The above document only states, and I quote "several of the morphological traits listed". When the life or death of an animal depends on objective observations as means of classification, one would expect to have measurable data and a set number of characteristics. A dog's body could be measured and compared to a template, so why not create one?! For example, if a dog conforms to a minimum of 17/20 characteristics, which were measured and determined as a positive match to the predetermined standard, then, and only then, would you have a pitbull-type dog.
Morphology Isn't Guess Work 
Pick a breed, any breed, and read through the CKC (Canadian Kennel Club) or the AKC's (American Kennel Club) list of morphological criteria. You'll find that what makes a Staffordshire Bull Terrier different from a Bull Terrier isn't just the word Staffordshire. The AKC and CKC have very specific standards, plus subjects from a breed need to have a pedigree in order to be called a Staffordshire Bull Terrier or Bull Terrier. There's simply no guesswork in determining a purebred dog. 
I think the city of Montreal, and other BSL cities, need to clarify this question. People need to know how many of the criteria qualifies their dog as pitbull-type and to which extent. If a 90o stop is required, does a +/- 5o rule apply? If a dog has twenty of the above-mentioned criteria but has a misaligned dental occlusion, is the dog immediately disqualified? Does a dog need to have all twenty criteria to be considered pitbull-type? 
Morphology Shishmology 
I want to end with the notion that dogs aren't machines. They come in many, many, different shapes, sizes, and colours, and to qualify them based on nonsense criteria is simply irresponsible and unprofessional. Dog caregivers need a better-defined morphological chart. Furthermore, elected city officials need to step up and take their biased and idiotic approach to dangerous dog management and try to make something professional and coherent out of it. Till then, I know who I'm going to vote for, do you?
Cheers.
G.
References
- PIT BULL-TYPE DOGS: MORPHOLOGICAL TRAITS. (2017). Retrieved from http://ville.montreal.qc.ca/animaux/assets/doc/identification_pitbull_EN.pdf March 8th, 2017