Animal-Assisted Therapy
Mountainview High School (dog & rat program), Montreal, 2018 - 
Perspectives One High School (dog program), Montreal, 2014 -
Focus High School (rat program), Montreal, 2015 -
Laurier-McDonald High School (pilot project - dog program), Montreal, 2016

College Professor
Relevant Information to the Animal-Assisted Therapy Profession - La Pocatiere, 2014 - 2016
Animal Training and Behaviour - La Pocatiere, 2014

Animal Behaviour Consultant & Animal Trainer
Dogue Shop Training Centre, Montreal, 1999 - 
Les Écurie Casa Blanca, Ste-Sophie, 2016
Park Safari Zoo, Hemmingford, 2003 - 2016
Zouvrac, Montreal, 2007 - 2011
Au Coin des Quatre Pattes, Blainville, 2004 - 2007
Wolf Behaviour Field Guide
Wolf Park, Battle Ground, Indiana, USA, 2008

Veterinary Assistant
De la Promenade Veterinary Clinic, Montreal, 2004 - 2007
Ahuntsic Veterinary Clinic, Montreal, 2003 - 2004
Concordia University 
Psychology, cognitive-neuroscience (student), 2016 -  
Applied Human Science, Family Life Educator, 2009 - 2016 
Walks 'N Wags 
CPR & First Aid, Walks 'N Wags, 2021
CPR & First Aid, Walks 'N Wags, 2018 
Wolf Park 
Advanced Exotic Animal Training, 2016 
Wolves, Coyotes, Foxes, & Bison Training, 2008 
Captive Wolf Management, 2008 
Ethology, 2008 
Coursera 
Dog Emotion and Cognition, 2015 
Horse Course: Introduction to Basic Care and Management, 2015 
Animal Behavior Management Alliance 
Advanced Exotic Animal Training & Enrichment, 2019 
Advanced Exotic Animal Training & Enrichment, 2017 
Advanced Exotic Animal Training & Enrichment, 2014 
Quebec Association of Veterinary Medicine  
Domestic Animal Safety & Health, 2007  
Animal Rights, 2007  
Animal Grieving, 2006
Non-Exhaustive Teacher List:
| | | | |
| --- | --- | --- | --- |
| Dr. Alen Beck | Dr. Ilana Reisner | Dr. Suzanne Hetts | Kim Cooper |
| Dr. Andrew Luescher | Dr. James Serpell | Dr. Wayne Hunthausen | Margaret Gibbs |
| Dr. Anne-Marie Lamothe | Dr. Jennifer Burstein | Carolyn Clark | Mike Mantel |
| Dr. Bill Milgra | Dr. Karen Houpt | Gary Priest | Roger Abrantes |
| Dr. Brian Hare | Dr. Karen Overall | Gary Wilkes | Sarah Wilson-Kilcommons |
| Dr. Clayton MacKay | Dr. Kersti Seskel | Gwen Bailey | Steve Martin |
| Dr. Debra Horwitz | Dr. Kim Greener | Joe Araujo | Susan Garret |
| Dr. Diane Frank | Dr. Nicolas Dodman | John Menzies |   |
| Dr. Gary Landsberg | Dr. Raymond Coppinger | Karen Fisher |   |
| Dr. Ian Dunbar | Dr. Stanley Coren | Kayce Cover |   |
Gaby's Dufresne-Cyr's Bio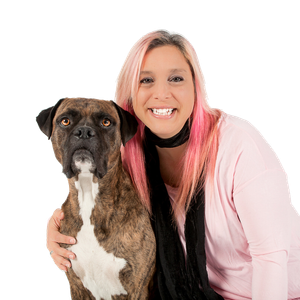 Gaby Dufresne-Cyr is the author of
Dog in the Mirror is God
. She is also the founder, teacher, dog trainer, dog behaviour consultant, and exotic animal trainer at the
Dogue Shop
in Montreal. Involved with dogs since childhood, Gaby Dufresne-Cyr got her first paid dog training client at the age of sixteen. From there, her path took her in a very different direction. She studied the arts and worked on movies and television sets, ads, and museums building and painting sets.
Gaby became a full-time dog trainer in the 1990s and now devotes her time to teaching newer generations the science behind animal training. Gaby also travels internationally to
speak
about the science of animal behaviour management, training, social learning, and exotic animal-assisted therapy as a means of enrichment, training, and conservation. 
Gaby believes training should not be done in large groups where distractions not only disrupt canine concentration, they also disturb the human-animal bond. The same goes for the
Dogue Academy
, aka the animal behaviour school. Classes are kept small, which makes them extremely personalized. Gaby teaches the Animal Behaviour Apprenticeship Program, practices dog, wolf, and rat animal-assisted therapy, and organizes various animal-related events.
Gaby invites you to visit her
Vero
 account to see what she has been up to.
Gaby's Training Philosophy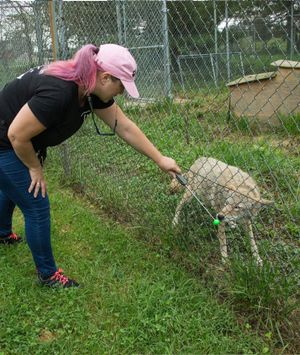 Science allows me to train animals of all species because learning theories and training techniques are the same no matter which species I work with. The challenge for me, as a professional, is to know which learning theory, training technique, and behaviour modification apply to the animal species I am working with. I then establish a training protocol and set the animal up for success.

I love to teach and train animals, but my reinforcement comes when I see an animal display the behaviours that I, we, set out to change. There is nothing more satisfying than watching an animal understand what I am trying to teach it, and see it modify its behaviour as a result. 
Finally, I use behaviourism and attachment theories to train dogs, zebras, rats, or giraffes. I am constantly studying (I am still in university, studying for my second degree) and modifying my teaching. Science does not stand still; therefore, I dedicate my life to moving along with it.
I love all species, but definitely am in my element when I am surrounded by wolves. There's nothing quite compelling as knowing you have changed an animal's brain for the better.