Animal-Assisted Therapy (AAT)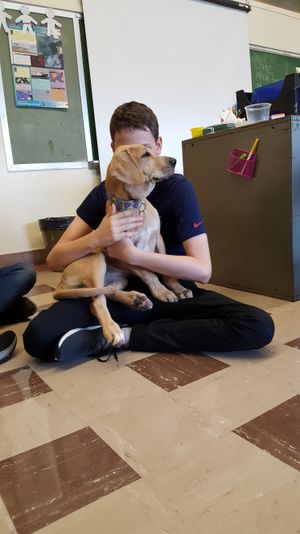 The dog animal-assisted therapy (DAAT) goals are numerous, with communications being the most important. AAT objectives are to develop problem-solving skills, improve self-esteem, and confidence. These programs focus on the dog as the assistant; however, other species such as small exotic animals might be integrated if needed.

Our target populations are teens and young adults within the alternative education school system. Most participants are at-risk teens in need of a different approach to life's many challenges. 
We do NOT offer private sessions or "pet the puppy" programs. Our animals are trained for intervention and prevention purposes for adolescents who are in need of a complementary therapeutic approach.

If you wish to offer an alternative program to your teen student body via a dog and/or rat animal-assisted therapy program please contact Gaby Dufresne-Cyr, for Canadian schools, or Taighe Strang for the United Kingdom school system.

NOTE: We have conducted both dog and rat animal-assisted therapy programs at Focus, Perspectives I, and Mountainview high schools within the Montreal English School Board (EMSB); therefore, we can provide references at your request.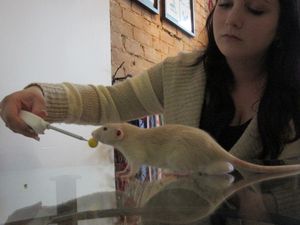 The rat animal-assisted therapy (RAAT) goals are similar to the dog program. The most important goal is to teach at-risk teens how to manage their emotions, communicate, and develop their social skills. Sounds simple enough, right?! It's not, but with our various animal partner teams, we reach our goals and so much more.

This personalized program focus on the rat as the assistant; however, other species such as small exotic animals might be integrated into the program if needed.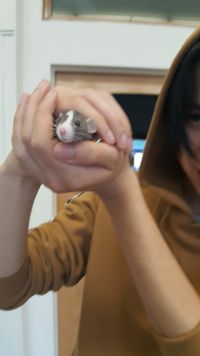 You can watch our rats in action on the television show Loin d'Etre Bete, which aired on TV5 in May 2012.

You may be grossed out by the idea of working with rats, but I assure you, your mind will change after you meet our little animal ambassadors. Rats are the perfect match because teens see themselves as marginalized, unappreciated, and overall bad to be around. We work to change those views and make them positive.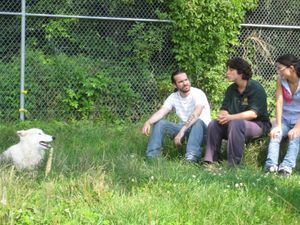 The wolf animal-assisted therapy (WAAT) program is relatively the same per its goals and objectives as dog animal-assisted therapy, with one exception, the animal partner is a wolf. During the wolf animal-assisted therapy program, teens interact, train, observe and learn about wolf behaviour. 
Why wolves? Teens often see themselves as misfits, unappreciated, obnoxious, hated, loud, recluses, yet they strive to feel accepted within a social group. 
Wolves teach us to live in the moment, appreciate the little things, anticipate, make their demands clear, avoid judgement, and take the necessary time to build secure attachments and positive relationships. In return, wolves receive reinforcement, enrichment and socialization. Furthermore, teens become ambassadors for wolves because teens protect what they love. 

In March 2011 the French television channel TV5 approached Gaby Dufresne-Cyr to film a wolf animal-assisted therapy television episode for their miniseries Les Guérisseurs. The wolf animal-assisted therapy episode was filmed in collaboration with the Centre Jeunesse Emploi Centre-Ville and Park Safari. If you wish to establish a WAAT program at your facility, you can reach Gaby here.