By Gaby Dufresne-Cyr, CBT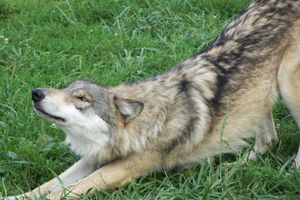 When compared to other species, C. familiaris (dog) research is still in its infancy; therefore, it shouldn't come as a surprise a behaviour we once thought held a certain meaning has now changed. Research serves to clarify our understanding of the world, so let's discuss the significance of those changes. 
  
Dog Play Bow 
One example quickly comes to mind when we talk about dog research, the play bow. The idea behind play bow has always been thought to mean one dog invites another dog to play by tilting his head and dropping the front part of his body down. My entire life has been focused around this significance, even if I always doubted its meaning. 
  
In their research, Byosiere, Espinosa, and Smuts (2015) describe Mark Bekoff's (1995) hypothesis Canines use play bows to reinforce ongoing social play and to clarify the bower's intentions so as to maintain a playful atmosphere. The following hypotheses are drawn from Byosiere, Espinosa, and Smuts paper (2015). In italic, you'll find my laymen description of the behaviour. This is strictly to provide you with a better understanding. 
  
- Hypothesis 1: play bows often functioned to stimulate play after a pause. 
After this pause everything I'm going to do is just for fun.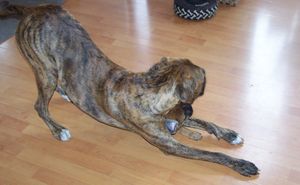 - Hypothesis 2: play bows function to clarify easily misinterpretable behaviours. 
I'm going to allow you to attack me. 
  
- Hypothesis 3: play bows might function to better position the bower to escape from the play partner. 
I'm going to run away after you pretend attack me, so chase me. 
  
- Hypothesis 4: play bows in general may help partners to synchronize behaviours. 
I'm going to do this behaviour after I bow, you should do the same as me so we can play fair. 
  
- Hypothesis 5: play bows would almost always be limited to times when the bower and partner were within one another's visual field. 
Look at me, I'm gonna get you, or are you gonna get me. 
  
In summary, research shows that bowers normally exhibit this behaviour to demonstrate they will be the victim. In other words, a dog who positions himself in play bow is trying to convey cooperation through victimisation. I'll end this paragraph with an interesting side note on play from Byosiere, et al. (2015) Of the 1656 behaviours recorded for both the bower and the partner before and after the bow, only 99 (5.97%) were [play] bites.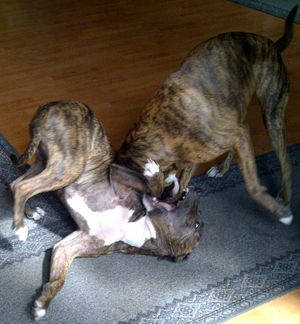 Professional Adaptation 
The play bow is one example amongst many researched behaviours to change in significance. New papers are published on a regular basis which means trainers and behaviour consultants need to continue their education if they want to stay up to date on behaviour problems, learning theories, training techniques, and behaviour modification protocols. 
  
Professionals who don't comply with new animal wellness, cognition, and emotional demands will be considered dangerous, and, hopefully by then, will be prosecuted. Sorry, I was daydreaming for a second, but I do believe one day our profession will be recognised and regulated. Till then, we need to continue our education, remain professional, and strive to implement scientific discoveries into our training protocols. 
  
Expectations 
One thing is clear, dog behaviour, more specifically our understanding of it, will undoubtedly change within the next decade. From these changes, we can expect an increased division between old school and science based trainers. 
  
I know my view and approach of dog behaviour and training keeps changing. This phenomenon occurs because I download and read upwards of twenty research papers each week.

When I was a kid, we did things differently. As a young teenager and emerging professional, my view drastically changed once again, and as I get closer to the halfway mark of my life, my views have changed yet again. The last ten years have radically modified my approach. 
  
I don't think I'll stop evolving, especially with a slogan like Doing It Differently, Doing It Dogue Style! But most of all, I hope we'll be doing it together. 
  
Cheers! 
  
References 
Bekoff, M. (1995). Play signals as punctuation: the structure of social play in canids. Behaviour, 132, 5–6. Retrieved from http://cogprints.org/158/1/199709003.html
  
Byosiere, S.E., Espinosa, J., & Smuts, B. (2015). Investigating the function of play bows in adult pet dogs (Canis lupus familiaris). Behavioural Processes, 125, 106–113. http://dx.doi.org/10.1016/j.beproc.2016.02.007