By Gaby Dufresne-Cyr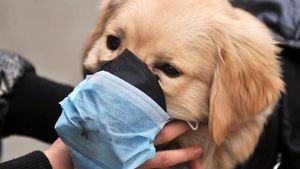 The rescue industry has a new source of dogs. Big rescue organizations go to South Korea or the Philippines and bring back canines destined to be on a restaurant or on the home menu. Some dogs come from the street while others are family pets stolen and sold for human food. This might seem like an honourable cause, yet a few reasons tell us it's a bad idea. 
Today's news headline is one of those reasons. The first case of dog influenza has been confirmed, and the dogs in question come from the latest seizure made in South Korea; most likely, they are the canines who were destined to be eaten, but the story doesn't tell. In my opinion, the coincidence is too obvious to be a random occurrence. Rescues are directly contributing to the spread of diseases. Plus, what right does one culture have to tell another culture what they can or cannot eat?
Another reason to not import dogs from other countries relates to population control. Most of the worldwide dog population lives as free-roaming or feral animals. The vast majority survive by eating trash and a few handouts from tourists. When feral dogs reproduce, puppies are pushed away from the immediate environment because there's not enough food to sustain an entire family.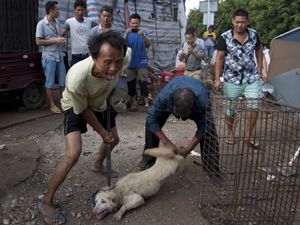 Once the 4-month-old puppies leave, natural selection controls populations. Dogs die from famine, diseases, or accidents. When rescues pull out litters, what they don't see are dogs breeding to fill the now empty niche. Rescues are actually contributing to the problem; they are not solving the overcrowded worldwide dog population crisis.
My pet peeve is the actual, or should I say factual, problem feral dog populations pose to urban societies. When rescues pull dogs out of their environment, they are not prepared for our climate or environment. Most of these animals live on the street and are poorly socialized to live in such close proximity to one another. Serious behaviour problems are common in imported dogs. Furthermore, local human populations from those countries are not educated as to why sterilization should be a priority, or why sanitary living conditions or breeding should be mandatory. 
Finally, rescues should focus on dogs that need help within our borders. Quebec euthanizes approximately 500 000 dogs per year. I believe we have more than enough adoptable dogs in Canada without having the need to fly halfway across the world to get ill or socially maladapted animals. I believe we need to educate, not perpetrate. What do you think? 
Cheers.
G.
UPDATE:
Wednesday, January 10, 2018 -- The dogs in this story that imported from South Korea came from an organization in the USA. Please follow the link to read their statement. 
References:
https://www.ctvnews.ca/canada/cases-of-canine-influenza-confirmed-in-southern-ontario-1.3750865 
http://www.cbc.ca/news/canada/windsor/confirmed-case-canine-influenza-essex-1.4477588
http://www.cbc.ca/news/canada/windsor/south-korea-dog-rescue-flu-canada-1.4480058