By Gaby Dufresne-Cyr, CBT-FLE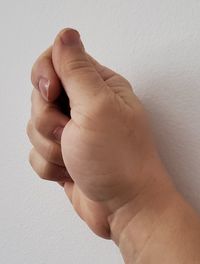 I haven't written in a while because the Dogue Shop and Dogue Academy have been super busy this year. But, with a drastic increase in dogs worldwide and behaviour issues skyrocketing, I decided it was time to speak up about lures and their negative effect on COVID dogs. 
Why Lures are problematic 
Everybody, it seems, uses lures to train dogs, and it's highly unnecessary to do so. It is counterproductive. Top trainers and behaviour experts worldwide all use lures to teach dogs, so I know I'm swimming against a powerful current, so be it; it won't be the first time. Plus, I know how to swim, so I'm not scared. 
Lures are used to model dogs into desired behaviours; unfortunately, the dog doesn't need to think about what it's doing; it just needs to follow a cookie to get rewarded. Here's the problem: the lure becomes the cue and eventually the prompt to do the behaviour, AND it serves as the reward. Sometimes, the lure also becomes the conditioned stimulus and the reinforcement. If you're confused, imagine your dog. 
When people do not fade lures out as fast as possible, they become crutches. Trainers come to rely on lures to train, distract, and modify behaviour when the lure in question no longer serves as a distraction. Dog trainers then teach their clients how to use lures, and the cycle of behaviour problems starts. 
The ultimate reason why luring is so problematic is because it doesn't teach the animal how to think. There's no room for creative thinking and problem-solving. In lure training, the desired behaviour can't be modified, changed, adapted, or substituted by the animal.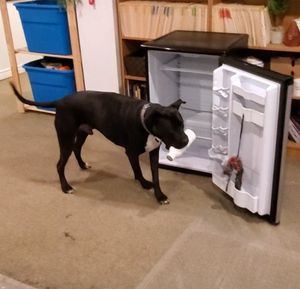 Avoid Using Lures at All Costs 
Lure training is lazy training. Some professionals say it's a fast way to train animals, but is it? Trainers with excellent shaping skills can train a complex series of behaviours much faster than lure trainers. One ABA student just trained a dog to fetch a beverage from the refrigerator in 20 hours without using a single lure (watch the video to the right). 
With social cognitive learning theory (SCT), animals are encouraged to think, problem-solve, and develop new strategies to make desirable behaviours better. In the beverage behaviour, the dog was initially trained to pull a rope to open the door, but he offered a new solution to use its nose. Seeing the dog preferred his solution, the trainer changed behaviours and moved along much faster in the training process. I always wonder what a lure trainer would do in this scenario. 
Lure training doesn't create a secure attachment, and without a secure attachment, it's almost impossible to train a dog. Let me rephrase that. Dog training that uses shaping is much faster than luring because the dog has learned that we, as a team, can work our way through difficult problems. After all, we have built a relationship based on trust. Plus, a dog trainer who uses shaping and the SCAT model doesn't have to fade lures at each step; thus, he saves training time. 
You might have noticed that lures don't work when dogs are faced with difficult problems. There's no amount of food, play, or petting that will break a reactive dog's focus. Conversely, when dogs are encouraged to offer new solutions, dogs quickly learn they have decision-making power that can work its way through complex situations. 
Social Cognitive Learning Theory and Attachment in Dog Training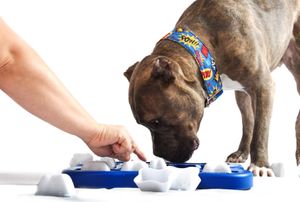 The social cognitive attachment training (SCAT) approach to training explicitly requires dogs to think and problem-solve their way through behaviours because it's the essence of a secure attachment and cognitive development. George, the dog in the video, was taught using the SCAT model, and as an animal-assisted therapy partner, he loves to solve his problems. We can see the joy in his prance when he breaks through a physical or mental barrier. 
The SCAT model states that to build a secure attachment, the dog first learns to solve problems cognitively with the trainer's direct help and, eventually, the owner's. It also describes how people must surrender their beliefs and projections about the animal and concentrate on the cognitive task. In turn, mental stimulation generates trust between the dog and the human. Trust nourishes the attachment and changes it from an insecure to a secure one. This interspecies problem-solving and decision-making connection generates a level of behaviour you never thought possible. 
Covid dogs have not been socialized because of isolation regulation, and with Canadian winters being what they are, an entire generation of dogs is now heading toward winter isolation. Spring 2021 will bring a dog population out of isolation and nearing adulthood; these dogs won't fare well in society. Lures will be of little use, and insecure attachments will yield frustration and anger. 
Dog Lure Training is Lazy Training 
To summarize this article, here's a bullet point on what has been discussed. 
Lures don't teach dogs how to think or problem-solve 
Lures are useless in behaviour modification 
Lures require fading out, thus adding an unnecessary training step 
Lures do not create or change attachment styles 
Lures quickly stop working as distractions 
Lures can be dangerous when dealing with aggression 
Lures tend to become conditioned stimuli, cues, prompts, and rewards 
Lures don't build trust between trainer and dog 
Professional trainers with decades of experience who use lures sadden me. There is no reason to use them. Lures are unnecessary, and I wish everybody would stop using them and teach others how to use them. I've been teaching puppy classes in Montreal's busiest park for decades, and we have never used lures. When clients come to us using lures, we stop them immediately. In five weeks, puppies learn to work for people despite lures, not because of them. 
I urge you to stop using lures because COVID-19 dogs won't respond to treats, and you'll be left with devastating consequences. Dogs are exceptional when it comes to creative thinking, problem-solving, and decision-making, so why not encourage them to learn?
Cheers.
G.