By Gaby Dufresne-Cyr, CBT-FLE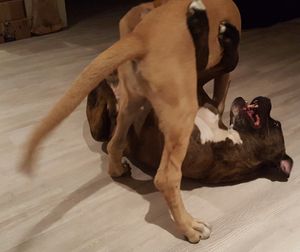 In the articles My dog Killed my Other Dog – Part 1 and Part 2, we discussed how dogs living together sometimes kill each other. The attack is often based on resources, medical conditions, or overall conflicts. Today, we will look at some of the consequences of these situations. Should the dog be rehomed, be euthanized, or do we carry on our merry way as if nothing happened? Keep in mind, dog training has absolutely no impact on what you're about to read.
Dog attacks
Dogs don't typically attack each other without any particular reason. There is always a motivating factor behind aggressive behaviour. Today's we're not looking at why this happens but what we can do after the fact. Many of our readers contact us daily either through messaging services, phone calls, emails, or comments directly on the articles for direction as to what they should do with the surviving aggressive dog. We need to consider the history of the dogs and the reason behind the attack. Every situation is different; consequently, it's difficult for me to pinpoint and solve every individual problem. Therefore, I will make general assumptions.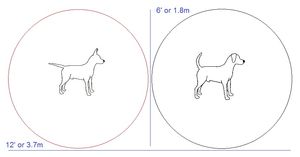 Let's assume the dog is attacking either because of conflict or intraguild predation. Intraguild predation occurs when a dog kills another dog based on specific resources. In this article, the resource is the dog's critical space. It's not uncommon to see attacks and conflicts in dog overcrowded households. If you want to learn more about critical space, I invite you to click the link above and read the article. When space becomes a resource, we often see conflicts and attacks arise in dogs who have been peacefully living together for multiple years. Simply put, one day the aggressor sees and seizes the opportunity and goes for the kill. It's that simple.
Conflicts can be about anything. As I mentioned, it could be about space, food, a toy, or simply the perceived conflict. For the sake of this article, I'm going to consider that an attack has occurred, and one dog died. The surviving dog is often taken into aversion by the owners, and that is completely normal. However, it's imperative not to make hasty decisions in these situations. You must understand that dogs solve problems according to canine social behaviour, not human law. You have just experienced trauma and need time to process this information.
Possible solutions after a dog attack
Here are some possible solutions to these situations. If the survivor has a history of attacks, the decision to euthanize is sound because rehoming these dogs will be highly unsuccessful. When dogs are highly aggressive by nature, rehoming them becomes a liability to the new family, shelter, rescue, foster, or owner. This type of dog aggression tends to increase when rehoming because the dog has gone through another very stressful event. The overall survival of an aggressive dog is slim to none. Passing on the problem to somebody else is just delaying the inevitable.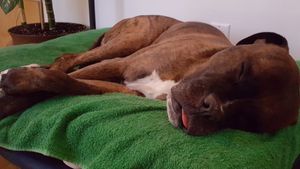 Intraguild predation cases are different because the aggressor doesn't have a history of aggressive behaviour. The action is a reflex, not a thought-out process. The dog was responding to an innate motivation to eliminate a conspecific. In nature, predators will often force an ill or dying member away from the group by chasing it. If that is not an option, the animal is killed. The reason is simple: an ill or dying animal will attract another predator, thus, posing a threat to the entire group.
By eliminating the sick or injured, the killer ensures the group's survival. Our dogs cannot chase each other away because they are confined to a house; consequently, it becomes imperative that the animals be separated and managed at the first sign of potential illness or injury. The size difference between the two dogs also increases the likelihood the smaller dog might die. Euthanization should be thoroughly thought-out in these situations, and the decision should remain objective. If you cannot take care of this dog after the event, relocating or rehoming the dog might be a solution.
At the first sign of conflict between dogs, it is vital to seek out the help of a professional. When left unattended, the aggression will undoubtedly escalate, which increases the possibility of injury or death. In my professional opinion, each dog owner should take a dog behaviour class to identify problematic behaviours from the getgo. The hard eye is a typical dog behaviour that precedes a conflict, yet it's a behaviour most people don't know exists. On the Dogue Shop's YouTube channel Husky Kills Poodle, we see hard eye at work; unfortunately, no one witnessed the behaviour and could not prevent the tragic death of a client's dog. 
All animals display aggression, and to believe certain breeds of dogs cannot bite or kill is putting humans and dogs at risk. I find myself in this exact situation. Hariette is larger and heavier than Albear; therefore, Albear is at risk of being killed by Hariette. I constantly manage the situation because I'm very aware of the consequences of my inactions. Although my dogs have not displayed aggression towards each other, I remain fully mindful and objective that this could happen. Ignoring dog conflicts doesn't make them go away. 
Be proactive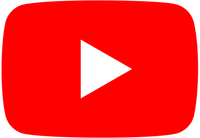 When a person lives with dogs, it's that person's responsibility to ensure everybody's safety. You can do this by educating yourself through dog language seminars and supervising dogs at all times. I will never stress this enough; dogs are predators. Like any other predator, canines behave according to their rules. Don't let anthropomorphism cloud your judgment. Attributing human characteristics to dogs can only be detrimental to both species. 
I strongly recommend you visit the Dogue Shop's YouTube channel. Navigate to the playlist titled What Dogs are Saying; from there are, you can watch the edited videos. I suggest you watch these videos repeatedly to familiarize yourself with actual dog language, AKA behaviour.