By Gaby Dufresne-Cyr, CBT

Thousands of articles and books are written each year on how to achieve success. Corporations set examples for young entrepreneurs, but when it comes to animal-related business, do success tips apply or should they be taken with a grain of salt?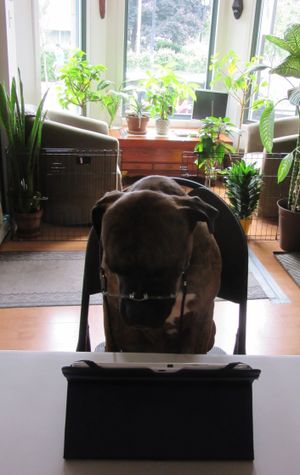 Recently, I gave an interview to a university student on my definition of success. The lovely young woman was curious and open-minded. We sat and drank coffee in the Dogue Shop's lounge and discussed the many tips normally taught in university business classes. More specifically, the topic covered my definition of success and the steps I thought were appropriate.

My Definition
I define success not by an amount of money, but rather by the actions I've completed in order to transform my passion into a working and self-sustaining model. To me, success is the ability to not only do what I love but be who I am. I think everybody can work their passion, but if you're not yourself in the process, you'll fail. Why? Because emotions and insecurities influence decisions. I see many dog trainers and behaviour consultants burnout and return to the non-passionate workforce, not because they didn't love what they did, but because they lacked the inner leadership required to transgress their own emotional limits.

Certainly, leadership can be learned, but to lead yourself towards the desired goal and remove hurdles along the way requires a certain ability, characteristic, a motivational force if you will, to take the steps necessary an assure victory. Being in business is a stressful adventure not intended for the weak of heart. If you are a natural leader and have decided to follow your dream and turn your passion into a full-time business, as Axl Rose would say Welcome to the jungle.


Services, The New Product
The top ten business tips for beginners are listed below. I've added my thoughts to illustrate differences between service and product industries. If you're thinking of starting a business, I highly recommend you write up a business plan with a senior service industry professional, if only to clear your thoughts about tip number one and seven.

1. Do some soul-searching. If you don't know what you're passionate about, you can find a multitude of personality tests that can help you discover your inner calling. Most people who'll read this article already have an idea. Actually, more often than not, people have too many ideas.

2. Pick the right type of business. If you know number one, there's no need to spend time on this. The only thing I would recommend is to wean out products. Service professionals who sell products are not taken seriously. Think about it, would you buy supplements, clothing accessories, or food at your psychologist or chiropractor's office? Pet stores are product businesses and your service clients are not looking to buy pet food or leashes.

3. Figure out how much money you'll need. True, but this should really come last, once you've made your business plan. Don't try to jump hurdles before you get to them. Finances and projections will come soon enough.

4. Hire the right people. Kevin Costner said it best in Fields of Dreams If you build it, they will come. Most animal professionals are independent workers, but if you plan on expanding, find people who share your vision and mission statement. If you stay true to yourself, the right people will show up at the right time.

5. Create a winning culture. This is really about leadership. If you stay true to yourself you'll be surrounded by the right people because a winning culture is a consequence, not a goal. I've never set out to create a new culture, let alone a winning one. I believe people rally around a successful business because of the authentic nature by which it evolves.
6. 
Learn empathy
. OK, let me simply point out that if you haven't learned how to be empathetic by now, you most likely have an antisocial personality disorder. Empathy is the first thing we learn as infants, so cross this one off your list of things to do. On the other hand, you might need to take a few classes on interpersonal communication, interviewing, and group dynamics.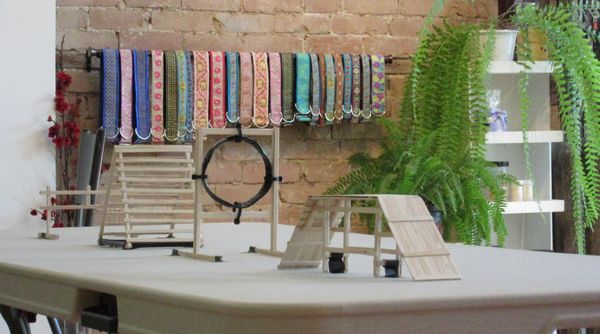 7. 
Find the metrics that matter most
. This refers to what services will you offer. If you haven't answered that question already, I suggest you start by what you DON'T want to do. As mentioned in tip number one, future professionals want to do everything, unfortunately, they often burn out and end up doing nothing.
8.
Use incentives
. As mentioned above, training and behaviour aren't products, they're services. The service industry normally doesn't use incentives. Have you ever contacted a plumber, electrician, psychologist, or chiropractor because he had a special two for one offer? I didn't think so! Your work should speak for itself. If you want your clients to return that's fine, but service professionals normally don't use promotions to attract clients.
9.
Experiment in stages
. Tip seven should make this stage obsolete. When you know what you want to offer, stages should only mean new services or better services. If you grow as a business and hire people, remember no one is exactly like you and clients might not want to deal with your colleagues. Which, if you think about it, is a good thing.
10.
Keep your eye on the future
. Although being aware of what goes on in the animal industry is required, innovations should not come from others, they should come from you. Always
Think Outside the Box
 and be creative. Again, there's no one else exactly like you; therefore, you should allow yourself to experiment, evolve, grow, flourish, and transcend the present moment. The future will come soon enough.
My Thoughts
In the end, owning your business is extremely rewarding. I've met wonderful people, worked with amazing animals, made connections I never could have dreamt of, and have been blessed by unique experiences. I've never set limits for myself because I've never believed in boundaries. I like to
go with the flow
in a structured kind of way. Most importantly, I try to live in the eternal moment because I truly love the discoveries I make. In that way, I can relate to dogs, for the journey allows me to savour my passion and frolic in the wind.
References
- John Molson School of Business. Concordia University. Retrieved from http://www.concordia.ca/jmsb.html 07-2015.
- Minda Zetlin. 10 Steps for Success as an Entrepreneur. Retrieved from http://www.inc.com/minda-zetlin/10-steps-to-success-as-an-entrepreneur.html 07-2015.
- Government of Canada. Service Industry. Professional, Scientific and Technical Services Industry Profile. Retrieved from https://www.ic.gc.ca/eic/site/si-is.nsf/eng/h_ai02289.html 07-2015.