By Gaby Dufresne-Cyr, CBT-FLE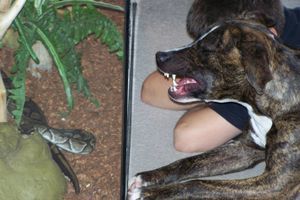 The most common question we get when people call in for help is Can you fix my dog? First things first, for the most part, dogs are not broken. They are not objects we can repair, and they do not have parts we can change. Dogs often display desirable, aka normal behaviours or the occurrence of species-specific behaviours that occur the majority of the time. So, why are so many people calling in for behaviour problems? Let us look at the fundamental reason, and I am warning you that you might not like my answer. 
My pet peeve, and yes, the pun is intended! 
One of my pet peeves is when trainers and other behaviour consultants write on their websites that they can address behaviour problems such as barking, biting, jumping, digging, stealing food, displaying aggressive behaviours, etc. They can change your problematic dog into a well-behaved member of society. Here is the problem: none of those behaviours are problematic behaviours. The majority of dog behaviour problems are human problems. 
Dogs bark. In fact, humans breed dogs to bark. Compared to their wild counterparts, dogs are hyper-barkers. Any occasion is a vocalization opportunity in Fido's head, so too are jumping, running away, digging, growling, and biting. Dogs love to react and pull on the leash; they enjoy chasing small animals; they like to eat trash or poop; canines roll in disgusting things; in essence, dogs display whatever behaviours they find enjoyable, and to them, that is not a problem. 
True dog behaviour problems 
Problematic behaviours, or what professionals call clinical behaviour problems (CBP), are genuinely dysfunctional behaviours. We define a CBP as an action or reaction that prevents the organism from functioning normally. For example, a dog that guards its food does not suffer from a CBP; food guarding is a healthy dog behaviour. If a dog did not guard its food, it would have nothing to eat, and it would die. A dog that guards its food to the point where it cannot eat can, and often does, suffer from anorexia. The dog's weight will be dangerously low and will need pharmacological and behavioural therapy to help modify its eating habits. The same can be observed when a dog eats so fast it vomits and eats the food again. When the cycle goes on, the dog can suffer from bulimia and anorexia, and its overall health will suffer. 
Another common dog behaviour problem that is not a problem is aggression. Dogs are predators and function under different rules when it comes to conflict management. When dogs tell other dogs to get out of their space or face, they do it with growls and teeth, not with flowers and chocolates. Those behaviours might be problematic for people who are unfamiliar with dog behaviour, but in reality, these behaviours are necessary and, thus, considered healthy behaviours. Aggression-related CBP often results in self-mutilation or phantom conflicts with a body part. You most likely have seen these behaviours on television or YouTube, most often labelled funny dog videos. 
Animal behaviour professionalism 
In my professional experience, people do not know the difference between desirable and undesirable dog behaviours, and that is perfectly fine. That is why clients hire us. That said, I have an issue with websites that list dog behaviour problems that are not. The downfall with this type of approach is that clients are led to believe their dogs can be fixed when, in reality, they are not broken. When a human goes to a psychologist or psychiatrist, do we expect the person to be fixed? No, we do not! So, if we cannot fix a person, how can people claim, as dog professionals, to be able to fix dogs? 
Throughout my thirty-four years in the dog training and animal behaviour industry, I have seen and heard many strange things; however, I have never lost my direction when it comes to transforming a pastime into a professional business. Exotic and domestic animal trainers need to step up and answer the professionalism call. Trainers need to educate clients and tell them what are the differences between normal and abnormal behaviours. 
There needs to be a discussion on why training goals are critical components of outcome expectations. If you are training or modifying animal behaviour in exchange for money, your criterion needs to be realistic and professional. To tell a client their Australian Cattle dog's ankle-biting behaviour can be fixed is unrealistic and unethical. Working to eliminate dog behaviours that were created by humans is unfair to the dog and, in my opinion, cruel. 
Cheers.
G.