By Gaby Dufresne-Cyr, CBT-FLE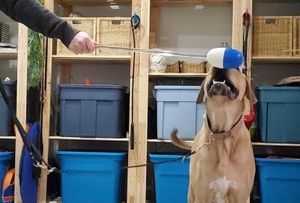 I have been told by students, over the years, Thanks to you, my dream has been destroyed! I am here to tell you why I did it and why am happy I did. As a teacher and educator, my role is to make certain your career in the animal world is safe and long-lived. That process is based on the time we share together. The Animal Behaviour Apprenticeship (ABA) and Animal-Assisted Therapy (AAT) programs are respectively 200 and 100 hours, which is a very short amount of time to become a professional, but that does not mean it is impossible... 
Why I Broke the Dog Trainer 
The first thing people write on their letter of intent when they apply for a program is I've been around dogs all my life or I just want to work with animals. The first realization that comes with being a student is you will always work with a human and an animal. It is not the other way around. Breaking the dream refers to the reality check future animal behaviour professionals get when they take one of the Dogue Academy's programs. 
The second break comes when future professionals realize how little they actually knew about dogs. Even though a person might have been around dogs all their life, dog behaviour is far more complex than one imagines. Dog behaviour is an actual language canids use to communicate. When you learn it, you cannot unlearn it, and all the innocence of joyfully playing with dogs now turns from an emotional to a cognitive perspective. When students learn this harsh reality, my job here is done. 
Learning to work safely with animals is also a belief crusher. Once a person learns what dogs are truly saying, they realize just how much dogs really do not want to serve us unconditionally. Dogs are living organisms and at times, they have an agenda of their own. Dog behaviours are not always the direct result of human intervention or lack thereof. Dogs do have clinical behaviour problems, and dogs do not love everybody unconditionally. When students learn to work safely with dogs, my job here is done.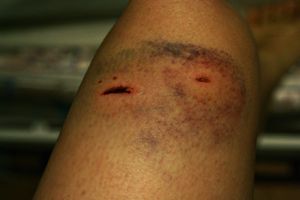 In my class, you are faced with the realization that you do not have a special connection to animals, you just had luck, thus far. When the stars align, bites happen, regardless of the number of papers on the wall, and when aggression manifests itself, careers can end abruptly. So the question becomes, do you prefer a short pleasant emotional passion or a long cognitive animal career? When you can answer the question, my job here is done. 
Why I Am Happy I Broke the Dog Trainer 
I am happy I break my dog trainers because the process ensures a long and healthy, bite-free, career. Broken trainers are able to professionally safeguard the public from possible disastrous situations. I am happy I broke my students because they can uphold objective discussions void of emotional interference. I am joyful of the fact that future professionals improve the lives of dogs and people who take care of them. That statement is actually part of the Dogue Shop's mission statement. 
Finally, to my past, present, and future Dogue Academy students, I must say I am happy you are living your dream, but most of all, I am delighted you will have a long and safe career because I Broke You! 
My job here is done.
Cheers,
G.