By Gaby Dufresne-Cyr, CBT-FLE
Job Description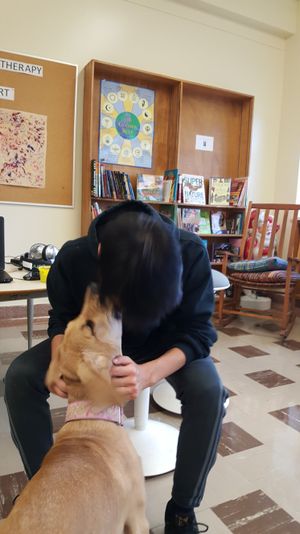 Zootherapy: In my field of work, I call this practice pet the puppy. Most human-dog teams have little to no formal training. People do not implement or document behavioural changes, nor do they have specific goals for their target population. A side product of being in the presence of an animal often results in a feel-good state. This type of service is usually a volunteer position, and the person does not receive monetary compensation for the service. The Quebec legislature does not protect this kind of activity. 
This activity usually consists of a person bringing their animal to an establishment and allow the client to pet their animal. The person brings their animal to sick children, seniors, or people in palliative care. The goal of the contact serves to make the client feel better. Selected dogs are valued if they do not display any negative behaviours. I call these animals carpet dog. 
Animal-Assisted Therapy: Animal-assisted therapy falls under the umbrella term Animal-Assisted-Interventions. Dogs and other species are trained to perform specific behaviours according to the needs of the target clientele. Animals are required to facilitate the intervention process between the therapist and client or help prevent rebound behaviours in vulnerable people. The AAT professional plans specific goals and objectives and receives monetary compensation for the service. The Quebec legislature does not protect this kind of activity. 
The animal-assisted therapy practitioner works with an animal partner. The training process begins during the critical period of social development of the animal. Each field of work will target specific behaviour since each clientele is different. I work with teenagers; consequently, I socialize our dogs to this clientele. 
Emotional Support: The vast majority of people with emotional support dogs do not receive training. Untrained dogs do not serve a purpose other than accompanying a human and most likely, it makes them feel good. Without professional documentation and data collection, it remains unclear what biological, physiological, emotional and behavioural conditions are modified. Most people with an emotional support dog are refused access into establishments. The Quebec legislature does not protect this kind of activity. 
A person brings their dog everywhere to alleviate the symptoms such as anxiety, fear, stress, panic attacks, obsessive-compulsive disorder, or post-traumatic stress disorder. The role of the animal is unclear, and the vast majority of these dogs are untrained. When I ask the people who e-mail me what they wish their dog to accomplish, they often do not know.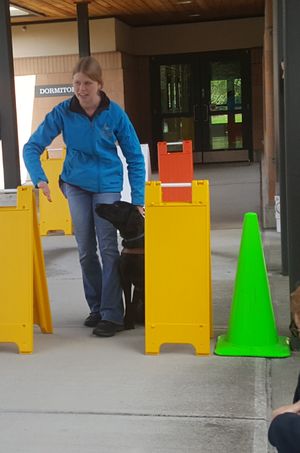 Service Dog: A service dog provides a service. This type of dog is a highly trained animal that physically helps a human accomplish any given tasks. Some examples are guide dogs, sound dogs (1), physically disabled assistance dogs (2), or military and law enforcement dogs. Dogs can also be trained to detect diabetes or epilepsy; unfortunately, the science behind this practice is still trying to figure out what dogs are detecting and if their behaviour does indeed constitute a service. The Quebec legislature does protect this type of activity. 
The person with a service dog needs the animal to accomplishing tasks they cannot do on their own; as a result, the dog accompanies them everywhere. The training of a service dog is often lengthy and costly; therefore, the vast majority of service dogs come from non-profit companies organizations. The cost of a real service dog costs over ten thousand dollars. Yes, 10000.00$+. 
A Social Problem 
There is a rise in fraudulent service dogs everywhere in the country. People who claim their untrained dogs as a service animal pose a direct problem to people who are legitimately disabled and need their animal partner to accompany them everywhere. 
There are a few reasons why I do not train service dogs for other people. First, people buy a puppy thinking any dog can become a service dog. That is simply false; most dogs do not make it through the training process. Second, the cost. People do not want to pay upwards of ten to twenty thousand dollars for the training of their dog that might ultimately fail. Finally, it is time-consuming to train service dogs. There needs to be an adjustment period where trainers and clientswork together to transfer skills once the dog finishes its training. 
My team and I trained the animals in our animal-assisted therapy program; consequently, I know and trust these animals because they grew up in the presence of the very teens with which we work. One can now see why incorporating a stranger's dog into the Dogue Shop's animal-assisted therapy program is merely impossible. 
Cheers,
G.
References: 
- C-12 - Charter of human rights and freedoms. Part I: Human Rights and Freedoms; Chapter I: Fundamental Freedoms and Rights; Chapter I.1: Article 10. Retrieved from http://legisquebec.gouv.qc.ca/en/ShowDoc/cs/C-12 May 2019 
- Fine, A. H. (Ed.). (2010). Handbook on animal-assisted therapy: Theoretical foundations and guidelines for practice (3rd ed.). San Diego, CA, US: Elsevier Academic Press. 
- Parenti, L., Foreman, A., Meade, B. J., & Wirth, O. (2013). A revised taxonomy of assistance animals. Journal of rehabilitation research and development, 50(6), 745–756. doi:10.1682/JRRD.2012.11.0216 
1 Dogs trained to signal phone, alarm, fire alarm, and other sounds relevant to the person. 
2 Dogs trained to pick up objects, fetch medication, or help with mobility.