By Gaby Dufresne-Cyr, CBT-FLE
There is an old saying that goes too much of a good thing can be a bad thing. You are probably thinking how does this apply to our profession, and with just cause. If you have read my articles in the past, you know I am not one to hide behind controversy; hopefully, the title got your attention and you will continue to read about why science and beliefs both influence dog training and behaviour. 
Positive Reinforcement 
Positive reinforcement (R+) is a quadrant within operant conditioning, which is part of a bigger learning theory called behaviourism. The other three quadrants are negative reinforcement (R-), positive punishment (P+), and negative punishment (P-). For the sake of this article, we will focus on R+ and P+. 
The definition of R+ is to add a desirable stimulus in order to increase the probability a behaviour will occur again. R+ is an effective and ethical way to train animals and humans. When the dog has exhibited desirable behaviour, it receives reinforcement and subsequently a reward. The reward is whatever the ANIMAL wants: water, sex, food, safety, shade, warmth, air, affection. Obviously, some of these elements are unethical to use such as air or sex, but for the most part, the other basic needs can and are used to train animals. Whether you are aware of it or not, animals can and do reinforce themselves with rewards you are unconscious of. 
Positive Punishment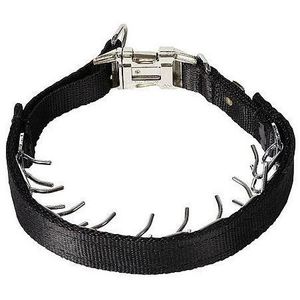 Positive punishment (P+) is another quadrant within the operant conditioning learning theory. The definition of P+ is to add an undesirable stimulus in order to decrease the likelihood a behaviour will occur again. This requires precision timing and efficacy, which are very hard to administer. In essence, punishments, both positive and negative, serve to make behaviours go away. When you think about it, punishment does make much sense when we are trying to create new behaviours. For example, to teach a dog to sit, P+ trainers will pull on a choke chain in order to teach the dog the behaviour; however, what is truly occurring, scientifically speaking, is people are punishing standing. From there, the dog is supposed to guess that a down sit is required. To summarize P+, dogs go through life avoiding pain and guessing which behaviours yield no pain. 
Human Reinforcement 
Humans acquire information from the same learning theories we utilize to train dogs and animals in general. Whether we are conscious or unconscious of our actions, P+ occurs in our lives on a daily basis. Red lights make you stop; social media notifications make you operate your cellphone; cold coffee makes you get up; a child crying makes your usher shushhhhh; your chronic lateness gets you fired; whatever the punisher is they all serve to make behaviour decrease. Unfortunately, people have associated punishment with severe pain. Most likely because they were victims of physical punishment or have seen or heard of physical punishments occurring to others. Nobody wants to go to jail because we like our freedom; therefore, the severity of the punishment regulates our behaviour. In other words, we behave because we want to avoid jail. 
Two and Two Together 
Our entire society is based on punishment; consequently, the vast majority of people believe in punishment, and a smaller and smaller amount of people believe in corporal punishment as a means of education. Whichever way we look at it, we were punished as children. When my son tried his first tantrum in a store, I looked at him and said Stop or I'm walking away! He threw himself on the ground, so I walked away. By doing so, I removed myself thereby adding vulnerability in order to decrease the likelihood that another tantrum (behaviour) would occur. You might agree with the process or not, that is not the point*. The point is, that my son never attempted a tantrum because the punishment was well-timed and effective. Punishment does not need to be physically or mentally painful to be effective. Thankfully reinforcement is on the rise, but let us be honest for a moment, R+ is lagging behind. This brings me to the introduction point. 
As professionals, we are required to change behaviours, normally from undesirable to desirable, for the well-being of our clients. Herein lies the problem which raises a serious ethical question. When dogs have learned from a punishment approach and we are called in to readdress behaviours that have gotten worse over time, we go in confident R+ will positively change the dog's behaviour. Unfortunately, that is an extremely false and dangerous assumption. 
A P+ taught dog living with a P+ human will suffer greatly in the hands of an R+ trainer. Why? Because for X amount of years the dog learned by being told what not to do, therein comes an R+ trainer who starts to teach the dog that it has control of its reinforcement. The dog now learns what to do, and finds it pleasurable, but at the end of the session, the dog will return to a P+ home. The dog now finds itself in a desirable and undesirable conundrum. Obviously, some people can shift their beliefs and start R+ training the dog; however, there is a big proportion of the owner population for whom punishment is not only a rule, it is a belief system deeply ingrained within themselves and no amount of R+ dog training they receive, their punishment behaviours will not change. Reinforcement is simply unattainable and the dog will suffer.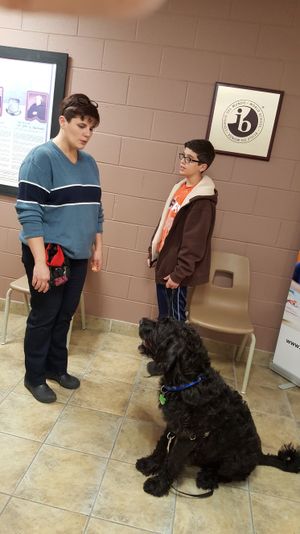 Ethically Speaking 
When we are confronted with owners who firmly believe in punishment, our roles shift from dog trainer to wellness agent. We now have to assess if it is ethical to keep training or not. We must ask ourselves Is it ethical to teach a dog for one hour a week that it can get all it wants (so to speak) in exchange for reinforcement, but the rest of the time it will continue to be punished? Pleasure vs Displeasure. Humans who strongly believe in punishment are refractory to change, consciously or unconsciously; consequently, dogs in these situations become very conflicted and aggression can inadvertently increase. By no fault of their own, R+ dog trainers are making matters worse. As professionals, what should we do? Here are some ideas. 
We walk away after advising the caregiver you can no longer work with them if they are unwilling to change their belief system. Explain why behaviours will worsen. 
Advise owners to stop training altogether and offer a management approach for the behaviour problem. This way, everybody wins by not learning. 
If they are adamant about working with their punishment tools, teach them how to use them effectively. The goal is to decrease the use of punishment. 
Demonstrate how to say good boy and pet the dog after the behaviour, this way there will be some reinforcement in the dog's life. Obviously, the dog should like being petted. 
Propose rehoming or surrendering if undesirable behaviours require such a solution. 
I have worked with hardcore clients who unconditionally believed people and animals could solely learn from being punished. I once worked with a 79-year-old woman who owned an out-of-control Belgium Sheppard. The lady refused to use R+, even after I demonstrated its efficiency, and made it clear I was not there to teach her otherwise. Before I told her I could not work with her, I did demonstrate how to use the choke chain efficiently ad effectively. For all matters of purpose, it was upsidedown and creating more pain by getting tangled in the dog's fur. 
My approach has always been nonjudgemental. I prefer to explore both sides of a situation, problem, or belief system and come up with an ethical solution for all involved. Sometimes difficult decisions have to be made, but one thing remains, we all strive to improve the well-being of both humans and dogs. In certain situations, R+ is simply unethical, thus, we need to cease and desist. Our profession dictates the use of science; consequently, to deny one or all three quadrants of learning because they do not reflect our belief system causes more problems than it solves. Extremism never benefits anyone. I am not saying you should go out and use P+, that would be unethical nonsense. What I am suggesting is to think about how being narrowminded and unscientific affects animal and human wellness. I am suggesting we discuss science in its integrity and apply it ethically, even if sometimes it requires going against our own beliefs because too much of a good thing is a bad thing! 
* When my son reached the end of the aisle, I was there to greet him with open arms and a kiss (R+). The explanation of that process is an entirely different article.