By Gaby Dufresne-Cyr, CBT-FLE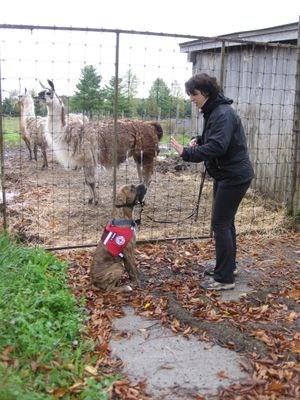 I get many e-mails from people proposing their dog as an animal-assisted therapy partner in our programs. I also receive multiple messages each month from people who ask me to train their new puppy for emotional support. I do neither, and the following article explains why. Please note, I wrote this article from a Canadian perspective. 
Definitions 
Dogs cannot be made into a working partner just because someone decided to. Out of every ten dogs born, one might make it as a service or therapy work partner. Yes, training is an essential component, but it is by far the only one. Dogs have genes and temperament of their own, and humans absolutely cannot change these characteristics. Before I can answer the question "Will my dog be good at…" I must first answer what does the job description require; consequently, the following definitions serve to clarify the differences between a service dog, zootherapy, animal-assisted therapy, and emotional support are. 
Zootherapy: Not found in the Oxford dictionary; Merriam-Webster: veterinary therapeutics; Collins: 1. Medicine - the use of therapeutic drugs derived from animals, 2. Psychology - a type of therapy that uses animals. 
The English use of zootherapy does not mean the same as the French definition. In English, the term zootherapy refers to the use of a medicine or treatment made from animals, i.e. glucosamine made from shark cartilage or omega supplements made from salmon oil. In French, they use the word as an umbrella term to define pretty much anything that involves an animal. When professionals incorporate animals into their human science practice, we refer to the process as animal-assisted therapy.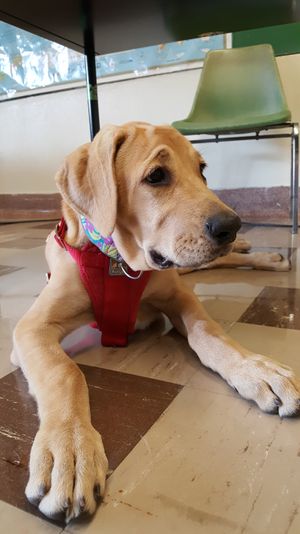 Animal-Assisted Therapy: Not found in the Oxford dictionary; Not found in the Merriam-Webster dictionary; Not found in the Collins dictionary; Wikipedia - Animal-assisted therapy (AAT) is an alternative or complementary type of therapy that involves animals as a form of treatment. 
When I conduct AAT programs, I often become a professional within a multi-disciplinary team such as social workers, psychologists, and specialized educators. The Dogue Shop's program includes parents, teachers, and the school principal. Everyone collaborates in order to achieve specific goals and objectives such as communication, attachment, self-esteem, and self-awareness. 
Emotional Support: Not found in the Oxford dictionary; Not found in the Merriam-Webster dictionary; Not found in the Collins dictionary; Wikipedia: An emotional support animal (ESA), assistance animal, or support animal, is a companion animal that a medical professional says provides some benefit for a person disabled by a mental health condition or emotional disorder. 
The above definition is not present in the federal government legislature because Canada does not have a disability act. Each province is required to stipulate their position on the matter of assistance and service dogs. In Quebec, therapy animals are not covered by the legislature; therefore, the establishment a person wishes to enter with their dog has the right to say no. The only two service dogs protected by the Quebec provincial legislature are visual and autism assistance dogs (C-12, 1975). Other service dogs fall under Article 10 and are subject to interpretation by law enforcement. Cases are assessed one-by-one. 
Service Dog: Oxford: An animal, typically a dog, that has been trained to assist a person who has a disability; Merriam-Webster: a dog trained to assist a person with a disability; Collins: a dog that has been specially trained to live with and accompany a disabled person, carrying out such tasks as prompting them to take medication or assisting them to cross a road 
As mentioned above, visual and autism assistance dogs have the constitutional right to enter establishments and use public services. Other service dogs are covered by Article 10; however, they must get a medical recommendation for the service animal. Most of the following are accepted conditions: auditory impaired, visually, autism, physically impaired, and certain mental illnesses. Psychologists can diagnose mental illnesses; however, psychiatrists are medical professionals who can prescribe medication.
To be continued next week.
Cheers,
G.