By Gaby Dufresne-Cyr, CBT
A behaviour problem is the physical expression of a negative mental state. Behaviour problems impair normal function, i.e. the dog cannot eat because it spends its time chasing imaginary flies. What has caused the original dysfunction can be the result of poor genetics, miscommunication, neglect, or abuse. Behaviour problems occur when humans fails to recognize the early signs of mental dysfunction. Knowing this, a question comes to mind, how do we prevent behaviour problems from developing?
The socialization period was well identified and thoroughly discussed in Fuller and Scott's book Genetics and the Social Behaviour of the Dog (1965). From their research, it was discovered that puppies need to experience various stimuli before the age of three months in order to securely withstand life's events. In other words, what puppies do not experience during this critical period they will fear as adults. This corresponds with Konrad Lorenz's theory of imprinting; it mentions a species acquires his identity during a critical period, in dogs this social period closes at approximately 16 weeks.
Socialization, or imprinting, and habituation happen according to a certain recipe. Take a little bit of social contact from dogs, people, and other animals, mix in various sounds, smells, objects and experiences, throw in positive training techniques, simmer for a few months, and voilà! A well balanced adult dog! Behaviour problems arise when the instructions were not followed and ingredients were forgotten, or omitted all together.
Socialization Problems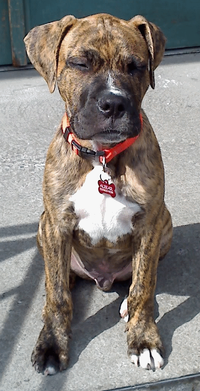 Puppies spend most of the critical period with their breeders. Consequently, the breeder's role is to provide positive stimuli and social contact to his brood. When puppies are exposed to a variety of people, animals, sounds, smells and positive experiences, dogs become confident, well balanced, and adjusted adults. In the best of worlds, puppies leaving their homes between seven and eight weeks are properly socialized, and sold to canine savvy owners.
Here are a few documented situations which can create behaviour problems down the line. 1. Separation. Dogs are pulled to early from the litter, or were not presented with various stimuli during the critical period. 2. Vaccination. Veterinarians tell their clients not to expose their puppy to other dogs before the vaccination protocol is completed. Unfortunately, this event occurs after the socialization period has ended. Introducing puppies to adult dogs is perfectly safe; considering most of the adult dog population is vaccinated. Obviously, one has to use common sense and refrain from contact if the adult dog exhibits signs of illness.
3. Over-socialisation. Large groups of adult dogs can seriously overwhelm puppies. The purpose of socialization is to learn which behaviours are considered normal and expected as adults; conversely, groups of puppies cannot teach each other manners they themselves know nothing about. The human equivalent would be to place young children together in groups and let them grow up in the hopes they will teach each other how to behave as adults. Adult supervision is not only required, it is mandatory. The same thing goes for dogs; puppies need to be in contact with well adjusted adult dogs in very small groups! Well adjusted adult dogs teach youngsters how to display species-specific behaviours.
Socialization Solutions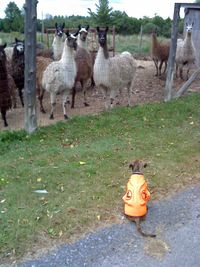 As seen above, socializing puppies is like baking a cake; one has to follow certain steps, at certain times, in order to obtain the appropriate finished product. If breeders have not exposed puppies to various situations, owners can offer those opportunities; unfortunately, they have very little time to do so. Owners have approximately four weeks to develop their dog's social skills. During this short time, owners should present stimuli they will unlikely encounter as adult dogs. Remember, dogs will fear what they don't know; this means traffic, fast moving objects, people of different shapes, sizes, ethnicities, noises, smells, and living creatures are potentially life threatening situations in the dog's mind.

Owners can socialize their puppies in different ways. They can bring them to puppy socialisation classes, stand in front of big stores, go to dog parks, visit a family member, or simply expose the dog to various situations and give them treats for positive responses. Everybody wants to pet the new puppy, so why not walk around and ask people to interact, while you control the environment. When you practice these techniques, or any other for that matter, one has to be conscious of their dog's emotional state of mind. Owners should pull their puppies away if they get tired, overwhelmed, or scared. Socialization is a question of balance; too much, or too little, of a good thing, can be a bad thing.