By Gaby Dufresne-Cyr, CBT-FLE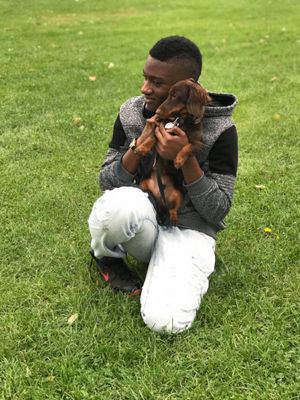 Animal-assisted therapy (AAT) is a human intervention system that serves to connect two individuals in order to facilitate therapeutic goals and objectives. The process can also be preventative in nature. When I tell people what I do for a living, the first comment I get is "I wouldn't be able to do that, I'd get too attached." Actually, the goal of AAT is getting attached. In my upcoming book, I will discuss the role of animal-assisted therapy on attachment.
My teams and I work very hard to attach to the participants in our programs because we are there to make a difference in their lives. The goals are to build secure attachments between ourselves and teenagers, to communicate their emotions, develop confidence and self-esteem, and to experience positive exchanges between people. Animals facilitate the process because of their non-judgmental personas. Dogs simply do not care about social status, branded clothing, vocabulary, finances, and other artificially created concepts. Dogs express joy or they do not, it is that easy. Similarly, we do not care about those things either. Our egos are checked at the door during AAT and teens appreciate that, which in turn, solidifies the bonds we are trying to build. In AAT, teens are allowed to be tired, frustrated, angry, joyful, fearful, or even disgusted. When people have issues, we simply encourage them to keep trying until they make a choice. We will do the same the next time around and remain consistent throughout the process.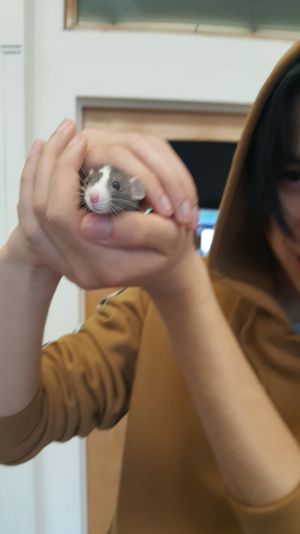 It takes on average six to eight weeks to create secure attachments with teens. Rats accelerate the process by one to two weeks. That said, time is of no concern to my team or me. Actually, it is the opposite, we pride ourselves on the connections and changes we see in students. School personnel also appreciate the changes they see in students, especially on the days we are physically on location. I enjoy working with each teen even if results are negative, for, we never truly know the impact we have had on a person. The exercises we propose to the participants are not always easy, but we do it together and that is what builds attachments. We never let a person fail, and in return teens never let animals fail. The cycle is one of deep connections based on mutual agreements of non-abandonment. In our social-cognitive triangle, we build the foundations of secure attachment. Rats a very proficient at creating secure attachments. 
Some cases are more poignant than others; consequently, when the end of the school year approaches, sometimes we need to swallow our tears, not because we are sad, but rather because we are happy to have experienced such positive changes. I believe it is inhumane to purposefully allow distance between people. In AAT, I build connections along the way to eventually hug the teens. That being said, we ask before we hug and totally accept no for an answer. Some students prefer not to be hugged and we respected their wishes. The end of the 2018-2019 school year was particularly hard for me because we were seeing off three students that had been in AAT for some time. I hope one day to cross paths with them and chat about their lives since AAT, but I remain extremely joyful to have shared the time we did. 
I love adolescent energy, the mind is so creative during this period of development. Erickson's called the developmental phase of adolescence Identify vs. Role Confusion. If we want teens to become welladjusted adults, getting attached is easy when you know the outcome is a positive one, even if results seem like a failure. In reality, we can never know or say we failed because we tried. To me failing a teen comes in the form of detachment, not caring, or avoid bonding with them altogether.
Cheers,
G.