By Gaby Dufresne-Cyr, CBT-FLE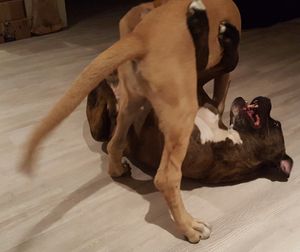 With the import of dogs from around the world, there is a growing concern for people's safety, and that bothers me tremendously. Today, I want to discuss the ins and outs of dog aggression. I am warning you that you might not like what you read, but that does not change the truth or the facts. Emotions almost always get in the way when assessing and working with aggressive dogs; therein lies dangerous situations and unethical practices. Dogs are dying, and people are getting injured or killed. Journalists point to the Staffordshire breeds, all the while omitting northern breeds that kill more people each year. This is unethical and biased reporting.  
Aggression is considered morally unacceptable in dogs, yet people tolerate aggression from other humans. Guy Turcotte admittedly killed both his children, and yet it took two trials to convict him. Montreal by-laws state that a dog that kills a cat will be euthanized, yet a cat that kills birds and other wildlife is free to walk. Why does an aggressive, biased view exist within the animal kingdom? If people feel the need to carry guns for self-defence, why are dogs not allowed to defend themselves with their teeth when threatened?  
Aggression Defined  
We discussed in past articles how fear and anger are opposite emotions; consequently, a dog cannot be fearful and aggressive at the same time. Aggression is the expression of anger, not fear. Expressed aggressive behaviours serve to either kill a threat or make it retreat. When a dog is confident, it will try to kill the threat. When a dog is insecure, it will display behaviours that make the threat go away. A fearful dog will retreat while displaying fearful behaviours. In summary, we have three types of reactions: confident aggressive, insecure aggressive, and insecure fearful. In true ethological description, these three reactions are dominant aggressive, submissive aggressive (active submission), and submissive fearful (passive submission).  
Aggression Categories  
Depending on who you read, there are between thirteen and sixteen aggression categories. I like the thirteen list because it groups a few categories into one; for example, pain aggression includes illness and disease aggression. When I evaluate aggressive dogs, it is important to determine which category they belong to (see list below) because behaviour modification protocols and euthanasia recommendations are dependent on proper assessments. I know; I said the taboo word, euthanasia. I will get back to that later. Some categories are easier to determine and yield a higher success rate than others. Redirected aggression and conflict aggression can be categories; however, redirected aggression is normally the consequence of another aggression category. Most aggressive displays are indirectly based on conflict; hence, I removed conflict-related aggression from this list for simplification purposes.
Dominance aggression  
Possessive aggression  
Sibling rivalry  
Territorial aggression  
Inter-male aggression  
Predatory aggression  
Play-induced / Excitement aggression  
Excitement induced aggression  
Insecure aggression  
Maternal aggression  
Learned aggression  
Irritable aggression  
Pain-induced / aggression*  
Other categories to consider:  
Intraguild aggression  
Human directed aggression  
Idiopathic aggression  
Genetic predisposition to high aggression (non-breed specific)  
Idiopathic aggression relates to aggressive displays or attacks toward non-living objects and people for no reason. For example, a dog sees rubber bins and attacks them ferociously. Of this list, intraguild aggression is the least known and discussed. I wrote two articles on the topic called My Dog Killed My Other Dog Part 1 and Part 2. We receive e-mails daily, and the articles, pre and post-hacking, still generate the most attention. Before hackers, we had over one hundred comments and just as many private e-mails. We crunched the numbers, and it turns out one dog kills another dog in the same household every 1.3 days, year-round.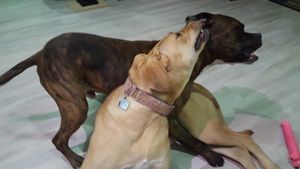 Aggression Cases  
Once I have identified the category of aggression, a discussion takes place. During the session, clients and I discussed time investment, financial investment, emotional investment, public and private risk assessment, and possible outcomes. Euthanasia is normally discussed in this meeting. I do not recommend euthanasia often, but on the upside, I do know how long and time-consuming the behaviour modification process can take. Pet owners are not animal trainers; consequently, their lives can become consumed by an aggressive dog and the training process. Furthermore, my training has prepared me to remain emotionally neutral when animals display aggression, but that is not the case for clients. Clients are often afraid of their dogs.  
Public and private bite risks need to be considered in aggression cases because the dog and its caregiver become liabilities to the public. I know it can be heartbreaking to learn that the family dog poses a very high risk to the human and non-human populations; therefore, euthanasia is considered a solution. If the dog has a biological issue and medication is not an option because of cost, side effects, values and beliefs, or inefficacy, then euthanasia becomes the most ethical decision.  
Aggression Adoptions  
Too many dogs are surrendered with known aggression issues each year. Rescues and shelters, through no fault of their own, are often unaware of aggressive behaviours because people abandon their pet's life. Furthermore, an animal in a crisis often exhibits its best behaviour. However, once relocated and the three-month adjustment period is over, aggressive behaviours emerge, and people are left with difficult decisions. I have seen a rescue take back an aggressive dog I classified as dangerous only to make it available for adoption the very same day without the mention of aggression. That is highly unethical and dangerous.  
Some people adopt a second dog, and as time goes by, adopt another and another. A year or two down the line, the young, confident dog kills one, two, or three other dogs within the same household. Intraguild predation is one of the least known aggression types because it is not well documented or discussed. Often, this type of aggression falls into the sibling rivalry category, yet these dogs are not siblings; normally, a noticeable age gap separates the dogs. Intraguild predation does not necessarily mean your dog will kill again or is a vicious killer. A predatory brain does what a predatory brain does.  
Aggression Is What Anger Does  
By calling dogs fur babies or fur kids, people have come to anthropomorphically reduce the dog to a plush toy unable of any wrongdoing. Regrettably, people have forgotten that when the stars align, dogs will bite or, worse, kill. That is their nature, and that is their function. To forget dogs are predators capable of hunting, capturing, killing, dismembering, and eating prey puts humans and non-humans at risk of such a fate. Aggression is not necessarily a bad thing; it is simply part of the genetic makeup of an animal. Organisms need a certain level of aggression to stay alive; thus, the emotion should not be ignored, but rather discussed and effective solutions implemented. One such solution is highly effective and has already been written into by-laws. Mandatory leashing of dogs is a law; consequently, law enforcers simply need to enforce the law without biases to reduce dog bites and attacks to nearly zero.  
To the questions asked at the beginning, I will let you share your thoughts. In the meantime, I propose a long reflection as to why dogs no longer have the right to exhibit aggression, why dogs cannot display their species-specific behaviours, why are dogs systematically killed because of people's ignorance, why cats can kill wildlife but not dogs, why cats who bite people are not euthanized, and why are people allowed to breed dogs who physically and behaviourally suffer their entire lives without any form of reprimand?  
Cheers, 
G. 
References 
- Casey, R. A., Loftus, B., Bolster, C., Richards, G. J., & Blackwell, E. J. (2014). Human-directed aggression in domestic dogs ( Canis familiaris ): Occurrence in different contexts and risk factors. Applied Animal Behaviour Science, 152, 52–63. https://doi.org/10.1016/j.applanim.2013.12.003  
- De Oliveira, T.G. & Pereira, J.A. (2013). Intraguild Predation and Interspecific Killing as Structuring Forces of Carnivoran Communities in South America. Journal of Mammal Evolution. http://.doi.org/10.1007/s10914-013-9251-4  
Echterling-Savage, K., DiGennaro Reed, F. D., Miller, L. K., & Savage, S. (2015). Effects of Caregiver-Implemented Aggression Reduction Procedure on Problem Behavior of Dogs. Journal of Applied Animal Welfare Science, 18(2), 181–197. https://doi.org/10.1080/10888705.2014.977383  
- Siracusa, C. (2016). Status-related aggression, resource guarding, and fear-related aggression in 2 female mixed breed dogs. Journal of Veterinary Behavior: Clinical Applications and Research, 12, 85–91. https://doi.org/10.1016/j.jveb.2015.12.001  
* Pain aggression includes illnesses, diseases, and accidents.