By Gaby Dufresne-Cyr, CBT-FLE
The following is factual information. When you need information about something, you should never ask your friends and learn how to actually use Google. Anecdotes and stories are not scientific. Science is not opinion-based, it is a tangible, measurable, quantifiable, and qualifiable information gathering process, also known as data collection. This article might seem controversial to some people, but facts are facts. The time has come for people to return to the time when dogs were treated as such and when being approached or touched by complete strangers was NOT acceptable. Remember that time in history when people educated their children on how to respect dogs as sentient beings? That is where these 25 facts will take you.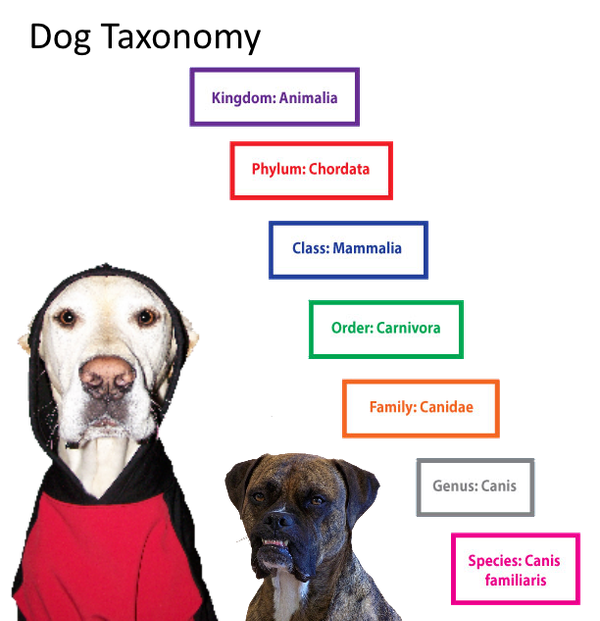 Taxonomy (see photo)
Designer dog breeds are NOT hybrids. Your doodle, pomsky, poky, Skidoo, etc are NOT F1s or even F4s. They are mixed breeds, NOT hybrids.
- A hybrid is a cross between two animals from the same genus -> dog and wolf = F1 or wolf and coyote = F1
- A cross-breed is a cross between two animals of the same species -> Labrador and poodle = cross-breed dog or -> red wolf and grey wolf = cross-breed wolf
Dogs are NOT pack animals. 
Dogs display dominance. 
- Wolves display dominance. 
- Humans display dominance.
- Birds display dominance.
Dogs are NOT omnivores.
- Canids do NOT have flat molars to chew plants and extract vitamins and minerals.
- Dogs are NOT vegetarian or vegan. 
Dogs see yellow and blue. 
- Dogs do NOT see in black and white only. 
Dogs do NOT transpire through their skin. They excrete heat through their feet, ears, and panting. 
- Pomeranians do NOT need a winter jacket. 
- Huskies do NOT need winter jackets.
- Labradors do NOT need winter jackets. 
- Shelties do NOT need a winter jacket. 
Salt does NOT corrode dog footpads during walks. Moisture freezes upon contact with cold snow, ice, frozen cement, etc. That is painful.
Dogs are 15 000+ years old as a species. Dog kibble hit the market in 1951. Dogs did NOT evolve a new digestive system within 68 years. 
Dogs are opportunistic predators. 
Dogs are NOT humans.
Dogs are NOT like people. 
Dogs bite. 
Dogs kill. 
Dogs die. 
Dogs have emotions: anger, anticipation, disgust, fear, joy, sadness, surprise, trust.
- Dogs are not jealous.
Dogs CANNOT physically release tears, aka cry. 
Bladder size is proportionate to dog size.
- Chihuahuas can hold their urine as long as Irish Wolfhounds.
- Retention is a learned process. 
Dogs can eat 10% of their body weight in one sitting. 
Training does NOT cause obesity. 
Overfeeding and lack of exercise cause obesity. 
Dogs do NOT like being hugged. 
Dogs do NOT have fail-safe mechanisms. 
Canada has four official dog breeds: Labrador Retriever, Newfoundland, Nova-Scotia Duck Tolling Retriever, and the Canadian Eskimo Dog. 
- The Tahltan Bear Dog is extinct. 
- British Labradors are  NOT a dog breed 
- American Labradors are NOT a dog breed.
Labradors are from Labrador, CANADA.
Five bonus factual tidbits of information for those curious minds
Dog jaws do NOT lock.
The Canadian Kennel Club recognized 175 dog breeds
- The FCI recognizes 344 dog breeds.
- The FCI has 98 member countries. Canada is NOT one of them.
Dogs can taste a smell.
Behaviourism is NOT the only learning theory applicable to dogs.
- Social-cognitive learning theory in animals has been studied since the 1950s. 
- Dogs learn by imitation
- Dogs learn by cognition
The clicker originates from WWII.
Cheers,
G.