By Gaby Dufresne-Cyr, CBT-FLE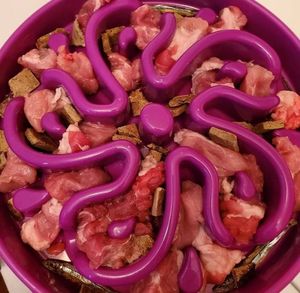 Captive domestic and exotic animals, which include dogs and cats, live a very different life when it comes to environmental stimuli. Humans directly or indirectly control every single aspect of an animal's environment. People allow animals to roam or not and interact or not with other living beings and objects. Consequently, animals in captivity lack essential stimuli that allow them to thrive psychologically. To compensate for undesirable behaviour like pacing and chewing, people have designed and offered enrichment and brain games (BG) to animals to improve their overall well-being. That said, there is a misconception about brain games that I need to clarify. 
Enrichment 
We define enrichment as the action of improving or enhancing the quality or value of something. In this case, the improvement directly correlates with wellness. Enrichment strives to increase basic physiological needs ophthalmoception (eye), audioception (ear), gustaoception (taste), olfalcoception (smell), and tactioception (touch). 
Enrichment should be part of every captive animal's daily regimen of behaviour expression. If Maslow's basic needs, such as air, safety, water, food, play, walking, reproduction, and thermoregulation are fulfilled through fixed action patterns (FAP), then enrichment serves as a natural expression of those needs. Thermoregulation is the only exception to the rule in warm-blooded animals.
When we place hay in a weaved firehose contraption, the animal does not need to solve a problem; it merely needs to use its foraging FAP behaviours. When we throw a ball, and a dog retrieves it, there are no problem-solving skills involved. The dog does not need to think or plan on how to get the ball; it solely needs to run after it, catch it, and bring it back.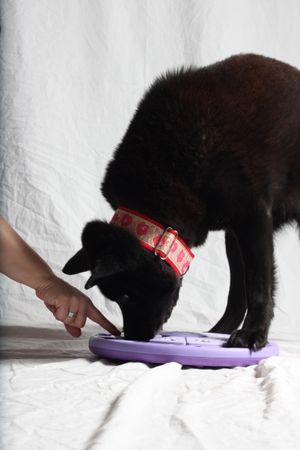 Brain Games 
We design brain games to satisfy psychological needs. When we offer a BG to an animal, the goal is to stimulate processes that naturally occur in an environment but are lacking in a controlled space. Domesticated animals do not need to think about anything because people provide everything to them. Dogs do not need to find food; conversely, wild animals rarely stumble upon freebies and thus have to satisfy the eating FAP. Yes, a lion might discover a dead zebra and get to eat for free, but that does not usually happen. Most frequently, lions have to find, chase, kill, and eat the zebra. 
We design BG to teach animals how to problem-solve. There are multiple steps involved in solving the game, and domestic animals might require our guidance and feedback to accomplish the required actions. A crow can get a piece of food when it solves all eleven steps of the BG. A dog removes a bone to unlock the drawer and then opens the compartment to receive the reward. 
A well-designed BG includes more than a one-step process. Depending on the animal species and their cognitive abilities, BGs can consist of thirteen steps or more. Birds are notorious for solving lengthy procedural sequences. Dogs are good at solving two or more steps within a problem. The critical part to remember about BGs is that they teach the learner how to learn. Eating from a weaved firehose apparatus does not teach the animal how to forage; the animal already knows how because it is a FAP. 
Overall Differences 
To summarize the differences between enrichment and BGs, I have created a table with yeas and nays on the goal of the object/s used. Brain games are enrichment opportunities; however, the opposite is not true. Brain games are usually too difficult to be considered as enrichment. When designs are too complicated, animals simply give up. It is not worth the effort. 
| | | |
| --- | --- | --- |
| Object | Enrichment | Brain Games |
| Kong filled w/ food | √ | X |
| Plastic container w/ lid and food | X | √ |
| Milk jug in a box wrapped in a taped towel | X | √ |
| Container w/ treats | √ | X |
| PVC pipe w/ holes filled with food | √ | X |
| Egg carton w/ food closed w/ elastics sealed in a plastic box | X | √ |
| Egg carton w/ food closed | √ | X |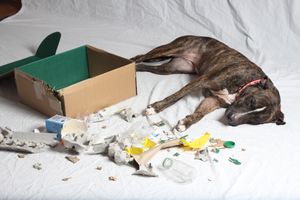 Although both terms are used interchangeably, enrichment and BGs are not the same. Most enrichment designs serve to stimulate physiological needs, and BGs address psychological needs. I often give the following analogy. Going to the movies is enriching; playing sudoku is mind-stimulating: movies = Enrichment, and Sudoku = Brain Games. 
My point is not to make one seem better than the other; my goal is to differentiate them so you know what your design is doing to your animal. Enrichment does not tire out dogs as efficiently as BGs, yet we do not give dogs BGs thinking they will solve the problem on their own; our direct influence, guidance, and feedback are required. 
In other words, use what is best for you and your animals and have fun. 
Cheers.
G.