By Gaby Dufresne-Cyr, CBT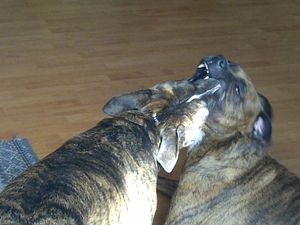 One thing's for sure, people consult far more often for aggressive behaviours than for fear, destruction, inappropriate elimination, vocalisation, and anxious behaviours put together. The funny thing is, aggression is normal in canids.
So why are we bent up on aggression? Why do we fear this type of behaviour above anything else? My answer will probably displease most readers, but I'm going to say it anyway. Aggression troubles people because humans tend to see aggression as an extension of their emotional selves (anthropomorphism). Furthermore, pet guardians can't bare the idea their canine companion could, or would, exhibit aggression towards other humans or dogs because that puts them in direct conflict with other people.
I'm here to reassure you, dogs are aggressive but not because you are aggressive. Canines display aggressive behaviours, just as humans do, but unfortunately they can't put emotions into words. Dogs manage their world with simplified communication output based on
avoid conflicts at all cost
. This is done via a language that serves to communicate information fast and easy. If I tell you to
Please go away because you make me feel uncomfortable in this situation
in a soft non threatening voice, your response might take time because you don't believe me. But, if I say in a loud aggressive voice
Buzz off
, you quickly get the message and leave me alone.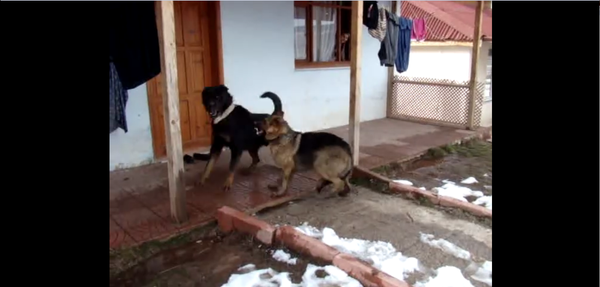 What I'm trying to say is that dogs display aggression and there is nothing wrong with that. If my dog exhibits an aggressive response towards a poorly mannered dog, I'm not offended and let them settle the dispute. Guess what, most often, when we step back and let dogs be dogs, problems are solved on their own and behaviour improves. In the following video, most people are tempted to intervene because the dogs are in conflict. If, on the other hand we let them solve their problems, we end up with dogs that respect other dogs' space.
My question to you is were you upset about watching the video? Would you intervene in this type of situation? If so, which dog would you pull away and why? I don't want to answer because I want to open the discussion with you. Let's stop fearing aggression and let's talk about why we don't allow our animals to communicate. Yes, it's true some dogs are poorly behaved because of behaviour issues, but that is far from being the majority. Most aggression cases on my desk are dogs who have learned to be aggressive because of poor breeding, poor socialization, interrupted communication, and poor training.
If you want to deal with aggression, you must first detach yourself from the emotion and see it objectively for what it is, dog communication. You should approach aggressive situations and learn to identify what your dog is trying to say. If you need help, find a good human-dog
interpreter
who will teach you canine language, and in return, you'll be better equipped to solve aggressive emotional outbursts, should you need to.