Canadian Broholmers' Journey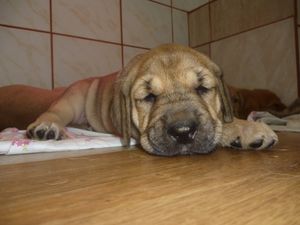 I (Gaby Dufresne-Cyr) have been a Broholmer lover since I first laid eyes on the breed. It wasn't a physical meeting nor a discussion with an owner or breeder. The encounter was from a breed book my European friend and I was looking at. I remember skipping through the pages and falling on that magnificent looking dog only to read its breed characteristics and say to myself, this is it. From now on, this is the dog I will work with. That first contact was 19 years ago. 
I'm saving you all the discussions and meetings I've had throughout the years trying to convince breeders to sell me a dog. Time has passed, rules are a little more flexible, and more countries now own Broholmers which facilitates the process. The Broholmer puppies were born May 26, 2018, in Hungary, and two females will be arriving in Montreal between August 25th-28th. Here is a summary of their journey.
First Canadian Broholmer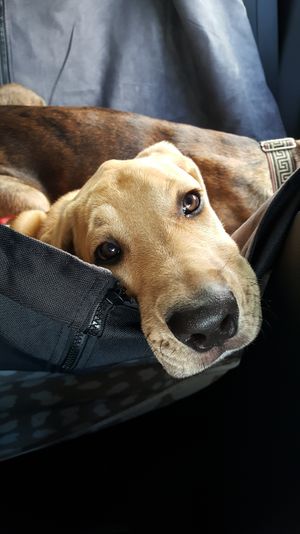 - May 10: The breeder contacts me to announce Broholmers Abigail and Milo have conceived.
- May 26: The breeder declares ten Broholmer puppies were born.
- May 27: I reserve two female Broholmers.
- May 31: I receive the first pictures of Abigail, and her puppies and registration documents are sent.
- May 31: I name the dogs Hariette and Harmony.
- June 3: Booking and transfer papers are being pulled together, more pictures come in, and I'm ecstatic.
- June  4: Puppy passports are created.
- June 12: Deposits are transferred, and yet again more pictures are shared. I'm overjoyed and super excited.
- June 24: Socialisation is underway, and the puppies are exploring novel stimuli.
- June 27: More pictures are sent our way, and I have made my first visual selection. Temperament will determine the outcome.
- July 6: Dog passports are done and the puppies have received their microchips.
- August 7: The puppies are growing and are now in mandatory quarantine.
- August 11: preparations for shipment have begun on both sides of the Atlantic.
- August 15: Crates are set, transition food ordered, and the announcement made to friends and family.
- August 18: Crate training continues while d-day gets closer and closer. At three months, Hariette is now 35.2lbs (16kg).
- August 21: The girls are scheduled to land in Montreal on August 29th, 2018 at 16:50 local time. We will live broadcast this event, so stay tuned.
- August 23: The puppy's ownership has been changed to me; therefore, Hariette is now the first Canadian Broholmer.
- August 29: Hariette finally landed at 16:50 EST at YUL and arrived at her new Canadian home safe and sound later the same evening. I will let her recuperate and we will start our journey as ambassadors together.
 
2021 Update
The newest part of the adventure is finding and importing sperm, which we are in the process of doing. Will it result in puppies? I certainly hope so, but we aren't taking reservations as of yet because there are too many unpredictable variables at the moment. We'll announce it everywhere on social media when puppies are born.
- November 13: Discussing the import of sperm with my breeder.
- November 23: A donor was found and now the veterinarian specialist was contacted and the process started.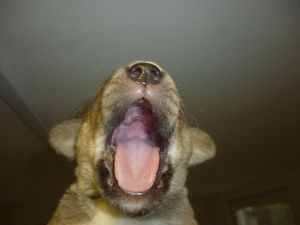 There is still much work to be done before the dogs arrive, but I will keep you posted on the developments. The puppies are all healthy and big. They have started to move around and eat solid food. The next stage of development is socialization. On our side of the Atlantic, we are preparing the puppies' arrival. We have finished constructing a maze, acquired transition food, bought a bed with a crate, and will puppy-proof the new space over the next few weeks. We have also made arrangements with a friend to sleep over if we need to pick them up in Toronto, Ontario.
Please read on for a brief history of the Broholmer breed. More information can be found on Denmark's page, on the Federation Cynologique International's(FCI for short) website page, or on the Broholmer's German breed club. 
Photo © Pheonix Bird Broholmer, Hungary, 2018