By Gaby Dufresne-Cyr, CBT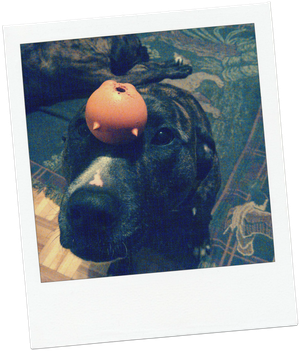 Many people confuse lure with reinforcement training. The confusion might come from the fact that both techniques use food to train animal behaviours. My goal this week is to shed light and expose the differences between the two.
Lure training is a technique by which food, a toy, or any desirable object is used to model the dog into the desired behaviour. the lure is then given to the animal as a reward. When you move a cookie or ball over your dog's head and he sits, you have lured your dog into a sit position. The trainer then gives the dog the cookie or toy. The process is then repeated until the behaviour occurs frequently.
Here's the thing. If you don't remove the lure at the right time, the trainer and behaviour become dependant on the lure. In other words, no food, no behaviour. Plus, if you work in an environment rich with stimuli, the value of the lure decreases tremendously which in turn increases undesirable behaviours. This is definitely not a win-win situation.
Here's an example. You use a treat to teach your dog to sit. In your house, the dog performs the behaviour perfectly. One day, you decide to go to the park and let your dog play with his friends. After a few minutes, Fido gets a little excited so you call him over. You ask him to sit, but Fido has his own agenda and refuses to listen. You pull out a treat, dangle it in his face and ask again. Still, Fido refuses to cooperate. The reason Fido doesn't want to listen is that playtime with his friend is way more rewarding than the treat you have to offer.
With lure training, dogs don't really learn behaviour, they simply follow food or toys. Consequently, when rewards of better importance, like playing with friends, become available, the lure loses its reinforcement power. Plus, the lure is used to teach multiple behaviours that confuse dogs even more. Dogs don't know if the lure (food, toy, touch) is the signal to do the behaviour or is the reward. Add insult to injury, sometimes the lure is used as both. Are you confused? If so, you now know how lure trained dogs feel.
With social-cognitive and reinforcement-based training, dogs learn that sit makes treats appear. Thus, by trial and error, treats will appear if dogs sit or won't appear if they don't sit. Again, luring doesn't teach dogs what to do because in the absence of the lure dogs won't perform the behaviour. Plus, when other more interesting things occur in the environment, the lure loses its power. Consequently, lure trainers get stuck in this habit and cannot break away from it.
If you put those lures aside and let dogs think things through for a moment, you'll be greatly surprised with what they can and do learn. Dogs have the capacity to think, we simply need to trust their cognitive abilities. In summary, a lure is a modelling tool, not a reward. Try it out and tell us what happened when you used a lure to train a behaviour versus reward.