By Gaby Dufresne-Cyr, CBT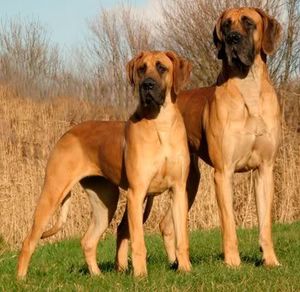 When I was a kid, we had Great Danes. These majestic creatures were big, bold, and never shied away from all our childish shenanigans. We started with one, then we had puppies, so we ended up with two, you know how the story goes. We had a molosser breed because Great Danes were big friendly dogs. With time it seems, Great Danes, molossus, and other breeds have become monster dogs.
Molosser means mastiff type. In French, a mastiff is called a Dogue (pronounced dog). Actually, Molosser is the proper term to describe what people call
bullies
. Dogue Allemand (German Mastiff),  Dogue de Bordeau (French Mastiff), Dogo Argentino (Argentinian Mastiff), Dogue Napolitain (Neapolitan Mastiff), Broholmer (Danish Mastiff), Dogue Anglais (English Mastiff), Anatolian Mastiff (Turkish Mastiff) all belong to the mastiff group, AKA molosser, AKA bully, AKA dogue. There are so many molosser breeds I can't name them all here, but you can
visit this page
to find out more.
Breeding Function or Fashion
I'll probably make enemies in the dog breeding community with this article, but I have to speak up. Today's Great Danes look and behave nothing like my childhood dogs. They have narrow chests, are lightweight, nervous, fearful, and prone to so many diseases, books have a chapter dedicated to the subject. Mind you this is not only happening with Great Danes, other breeds are seriously affected by our lack of consideration for their psychological and physical well-being. 
I know I'm over-generalizing, but like my friend says,
Gotta make outrageous claims if I'm gonna keep you awake.
 Seriously though, when we choose fashion over function we're changing our companions into monster dogs. The new norm in dog breeding is to
exaggerate physical characteristics
because the strange, uncommon, and peculiar dog is what we all want. Why, do you ask? Because a unique dog makes us, well, unique.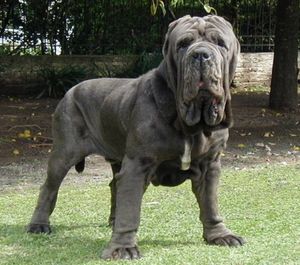 Morals & Ethics
There is absolutely no function to excessive hair, skin, a brachycephalic face, twisted legs, extra-long ears, or low hindquarters. I believe it's our role to educate the population about poor breeding choices. We need to stop the trend and ask ourselves, as pet guardians and professionals, where do we draw the line? Do we want to breed for function or fashion? I think the time has come to turn the tide and stop breeding dysfunctional pets and start breeding functional friends.
I want to grow old and see beautiful dogs walking and working within their human teams. I want to watch Retrievers bring back rubber ducks from a hidden pool. I want to hug a Molosser dog without him shying away. I want to see Shepherds herd animals. I want to see Terriers dig out plastic rats. I want to see running dogs run. My question to you is what do you want to see? I'll leave you with these words 
"...You want the enjoyment from that animal [dogs] and you're willing to do almost anything to the animal to get that enjoyment out."
- Raymond Coppinger 
Source
- Molosser Dogs
http://molosserdogs.com/gallery/index.php?cat=2
- Extreme Breeding
https://www.youtube.com/watch?v=Hex00WjSobE
- Canadian Kennel Club Breed Standards
http://www.ckc.ca/en/Events/CKC-Breed-Standards 2015